Who wants to win or offer $1000 Paypal cash to their readers? I do.
Here is yet again another opportunity for bloggers to join the host,
Pregnancy Forum
in bringing this
$1000 Extreme Paypal Cash Giveaway!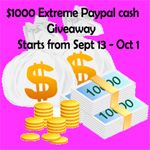 Event Dates : Sept 13 - Oct 1 (but sign ups run until Sept 11)
Check
sign up post
here if you are ready to participate, don't forget to include that
My Charmed Mom
referred you.