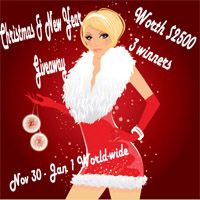 This event is brought to you by Pregnancy Forum who has teamed up with few of their friends to make this giveaway a special, big and successful event of 2012.
$2500 Giveaway One Big Christmas & New Year - World-Wide
Giveaway Start date: November 30 - January 1.
3 lucky winners
Grand Prize - $1000 Paypal Cash - First 2 winners
Third Prize - $500
You will have to publish this giveaway sign up announcement on your blog and put the $2500 One Big Christmas & New Year Giveaway button on your blog sidebar (grab the button above) to claim your 2 FREE links or pay $5 without the announcement post and button.
You will publish the giveaway html code on your blog once the giveaway is ready to be live and promote it atleast 3 time daily. Secure your spot,
sign up now!